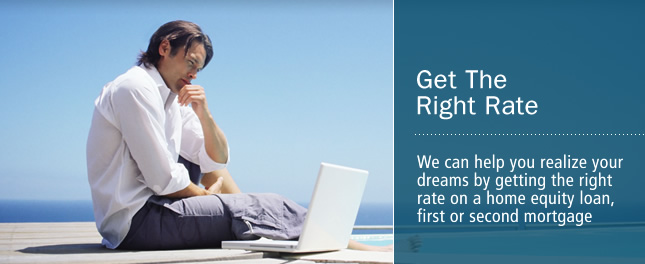 Are you looking to take out equity on your home? Get a mortgage for a new purchase or a first or second mortgage on an existing property? We make it simple.
Equity Loan Rates:
Includes Home Equity & Second Mortgages
If you own a home, chances are you qualify for a mortgage or home equity loan. Life is full of surprises so it's good to know that there are many financing options available to homeowners. It's all about what type of financing you feel most comfortable with in terms of payment terms and interest rates. For example, we can conditionally approve a net second mortgage of $15,000 for as little as $139 per month at only 6.95 percent. *
Contact us today for more information or simply apply online and get the process started.
First Mortgage Rates
If you need a first mortgage, we can help you too! At Capital Direct, our rates start at prime. For example, we can conditionally approve a rate of 3.99% * on a first mortgage of $200,000. That's payments as low as $1133.00 a month! Click here for more rate examples.
Mortgage Purchase Rates
Click here to view today's best mortgage rates for new purchases! Or simply apply online and get pre-approved for a mortgage purchase loan today.
Please note *:
Mortgage rates and monthly payments indicated are for example purposes only and are subject to change.
Annual mortgage interest rate is calculated monthly not in advance.
After deduction of applicable lender fees.