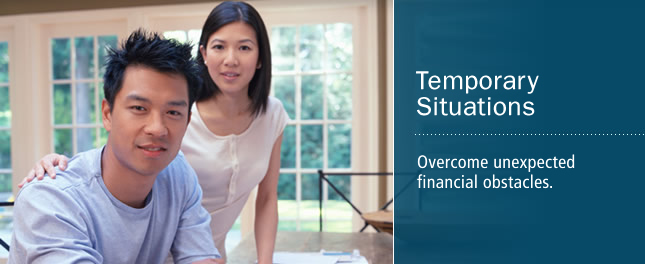 Sleep peacefully at night knowing there are solutions for dealing with life's unexpected financial situations.
Temporary Situations
Take comfort in knowing that there are solutions to the financial situations you may be facing. The equity value in your home could be the right answer for overcoming these obstacles.
Our mortgage specialists will find a creative solution that will help you use your home equity to your greatest advantage.
Contact us now for more information or apply online with our 4 minute home equity loan application.
Whether you are looking for:
Debt consolidation solutions
Paying for medical or legal expenses
Other unforeseen and temporary expenses
Let Your House Lend A Hand.
| | |
| --- | --- |
| | From time to time, most small businesses need a cash infusion to get to the next level. Cash flow management can make or break a small enterprise. |
| | Our people have a deep understanding of what it takes to grow your business utilizing equity. We help you determine the equity value in your home, and guide you through each step of the process. |
| | Your home equity is the key to your approval. We don't rely exclusively on credit history when designing a solution for you and your business. We take into account other factors that the banks miss like the length of time running the business or related industry experience. |
| | We offer 5 - 40 year amortization with 1 - 3 year terms to provide the flexibility you need to seize business opportunities. |
| | A Capital Direct home equity loan turns your home's increased value into money that you can use to invest in your business and advance your future. |
| | At Capital Direct we've built our business by delivering on what we say we are going to do. We provide personalized solutions by understanding your unique goals and personal situation. |

Call us at 1-800-625-7747 and get started growing your business or apply online today with our
4 Minute Equity Loan Application and one of our mortgage specialists will contact you within 24 hours.